New Years Eve Outfit Trends!
December 26, 2014
Only a month left in 2014! Where has the time gone? So much has happened this year both good and bad. Personally this year entailed a trip to Disney, a trip to NYC, graduating high school, receiving scholarships, saying goodbye to friends, making new friends, finishing my first semester of college, and a lot more!
With the incoming new year, there are bound to be celebrations about! Here are some New Years Eve outfit trends for you to check out for your bash this year! If you're not one to go out, or host on New Years Eve, there's a little special something for you at the end of this post.
1. Sequin
A classic trend for every NYE party or outing! Here's a few picks for my personal favorite sequin item!
H&M has a lot of sequin products, this dress in particular, really caught my eye. It comes in two colors black and turquoise, it has a slight scoop back and the sleeves are great if you're in a cooler location.
This cami is great for layering if you don't want to go full out sequins. It comes in three colors of black, white, and the teal pictured above. This cami is only 12.90!
2. Stripes
I find stripes to be a big thing during all the seasons, but I like them for festive times of the year the most. Here's a few of my picks!
This simple nice sweater from Target at $17.49 can be dressed up or down. You want the man in your life to be just as classy as you are for the event so spiff him up! This would also make a nice Christmas present. It comes in the color shown above as well as a dual blue option.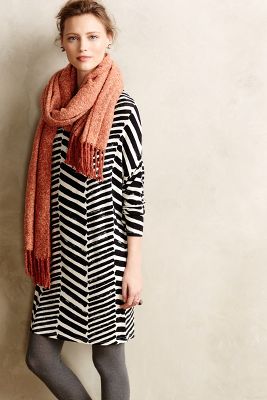 This black and white dress is a classic combo with an interesting twist on stripes. The dress is a bit of a splurge at $128, but Anthropolgie has high quality clothing and this dress is very versatile.
3. Pajamas
For those of you who don't go out to parties and would rather stay in and watch the excitement on TV (like myself) than here's a few cute picks for you!
These adorable and comfy flannel pants from Aerie can be found in several styles and a whole range of sizes. They come in at $26.21, but I'm sure there are coupons out there and holiday deals if you're not willing to shell out that kind of cash.
These adorable pom-pom slippers come in three different colors (red, gray, and black). These cute and fuzzy slippers can complete your already comfy, cozy NYE outfit.
I hope you guys enjoyed these picks, let me know your plans for NYE in the comments!