Crafty Wishlist 2016! // Gray Florals
December 06, 2016
Hello friends! For today's post I wanted to do something in the holiday spirit besides just sharing holiday projects, so I figured that it would be a lovely idea to give you a little sneaky peek into my crafty wishlist for this year! Now, some of these are definitely items I will not be getting and some are just great stocking stuffer ideas for your crafty friends or maybe your child who is interested in starting to dabble in memory keeping or other paper crafts. Let's jump straight into the lists!
Stocking Stuffers:
Opening my stocking on Christmas morning is always such a joy. Here's a few of my top picks/ideas for what you might want to receive or give this holiday season! (Some of the purchasing links are affiliated and I may receive a small portion of the sale at no additional cost to you).
1.) Copic Multi-liners ($$)
These are the perfect gift for anyone on your list. The markers are great for doodling, writing, bordering, and more. There are several different copic liner sets, so be sure to compare and pick out the correct one you're looking for.
Copic Multiliner Fine A 4-Piece Set
Copic MULTILINER SAKURA Fine Nib Inking Pens Set 053829
from:
Simon Says Stamp
2.) Tim Holtz Detailer Water Brush ($)
I have some off brand water brushes, but would love the one everyone raves about! This would fit perfectly into any stocking or would be a cute gift to accompany a card to your crafty friend.
Tim Holtz DETAILER WATER BRUSH Ranger Watercoloring TIP33080
from:
Simon Says Stamp
Tim Holtz Detailer Water Brush
3.) Doodlebug Sprinkles ($)
Enamel dots are so much fun and the perfect finishing touch to any layout. You can get them from any manufacturer, but I like how flat the Doodlebug ones are on layouts. These come in a range of styles including matte, sparkle, and normal.
Doodlebug Sprinkles Sugarplum
Doodlebug LADYBUG Sprinkles Assortment
from:
Simon Says Stamp
4.) Floral Thin Washi Tape Set ($)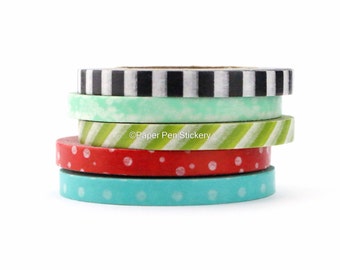 This is based on my personal preferences (but I know a lot of people who love floral washi), however, feel free to pick out a design you love or the recipient will love! Thin washi is a super fun thing to use to decorate packages as well!
Red Floral Washi Tape Set
Thin Vine Washi Tape Set
Gift Ideas:
1.) Hampton Arts Stamp Perfect Stamping Tool ($$$)
This is one of the biggest things on my wish list. There are several stamping tools out on the market, but I believe this one is the best price wise.
Hampton Arts Stamp Perfect Tool
2.) Freckled Fawn Embellishment Kits ($$-$$$$)
Freckled Fawn has the absolute best embellishment kits. They have unique products from acrylic, rubber, stamps, and clips! These fun kits are a perfect little item to pick up for anyone. They even have a Christmas kit which is very festive! Did I mention they all come in their own super cute and reusable storage pouch?!
Freckled Fawn Available Embellishment Kits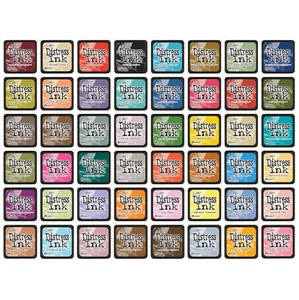 3.) Tim Holtz Distress Ink Pad Mini Kit ($-$$)
Everyone know that these inks can be used for so many techniques. Although there are several sets, you should probably ask which colors are best for the recipient or get a gift receipt so they can exchange colors!
Tim Holtz Distress Ink Pad MINI KIT #4 TDPK40347
from:
Simon Says Stamp
Tim Holtz Distress Mini Ink Kits - #2
4.) Zig Clean Color Real Brush Pens ($$$$$)
Zig Clean Color Real Brush Pens - 60 Set
Zig CLEAN COLOR 60 SET Real Brush RB6000AT60V
from:
Simon Says Stamp
Dollar Value Key:
Next to each product title you will see that there's a symbol indicating how much it costs. Below is the key to those!
$ 0 - 10
$$ 11-20
$$$ 21-30
$$$$ 31+
This is a really fun list for all sorts of crafters in your life or even some additions to your wish list! I hope you enjoyed these few ideas and be sure to share this with anyone who is looking to buy you a present! Tell me what else is on your wish list in the comments below, I would love to know! Thanks for stopping by!